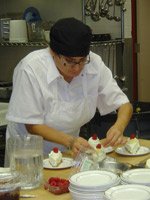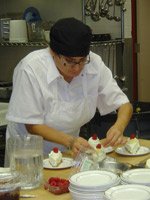 Cook
Cooks prepare, season and cook soups, meat, fish, poultry, vegetables and desserts. They make sauces, gravies and salads. They perform some meat cutting, and prepare basic baked goods.
What do Cooks do on the job?
Prepare and cook complete meals or individual dishes.
Prepare and cook special meals for patients as instructed by a dietician or medical professional.
Oversee subordinate personnel in preparation, cooking and handling of food.
May plan menus, determine size of food proportions, estimate food requirements and costs, and monitor and order supplies.
For further details about this occupation, please see the High School to Apprenticeship Handbook, or find it on this website under "Resources."
Having strong Essential Skills such as reading, writing, document use and thinking can help apprentices succeed in their training and in the workplace. A series of tools have been developed to support apprentices in understanding, assessing and improving their essential skills. These tools can be used independently or with the assistance of a tradesperson, trainer, employer, teacher or mentor.
COOK DOWNLOADS