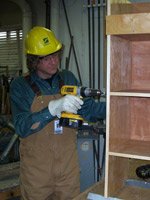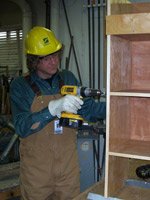 Cabinetmaker
Cabinetmakers construct, repair, finish and install cabinets, furniture, bedroom suites and architectural millwork, such as custom shelving components, paneling and interior trims.
What do Cabinetmakers do on the job?
Creatively envision and conceptualize products based on client requirements.
Prepare layouts that conform to codes, drawings and specifications.
Work with a variety of hand, power and stationary tools and equipment.
Precisely measure, cut, shape, assemble and join wood and other materials.
Apply diverse finishes using a variety of stain and lacquer products to enhance and protect wood surfaces.
Fit and install custom wood products, such as circular staircases, individual furniture pieces, bars, complete wall units, panelled boardrooms; and other custom applications.
For further details about this occupation, please see the High School to Apprenticeship Handbook, or find it on this website under "Resources."
CABINETMAKER DOWNLOADS