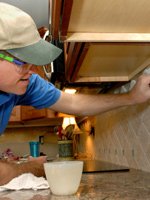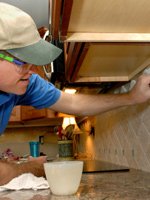 Tilesetter
Tilesetters construct, alter and repair structures with tile, granite, slate, marble, terrazzo and other similar materials.
What do Tilesetters do?
Prepare, measure and mark surface to be covered.
Build underbeds and install anchor bolts, wires and brackets.
Mix, apply and spread mortar, cement, mastic, glue or other adhesives using hand trowel.
Set tiles in position and apply pressure to affix tiles to base.
Cut and fit tiles around obstacles and openings using hand and power cutting tools.
Pack grout into joints between tiles and remove excess grout.
Remove and replace cracked or damaged tiles.
Lay and set mosaic tiles to create decorative wall, mural and floor designs.
Cut, polish and install marble and granite.
For further details about this occupation, please see the High School to Apprenticeship Handbook, or find it on this website under "Resources."
TILESETTER DOWNLOADS