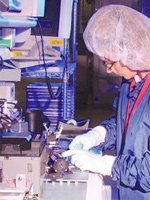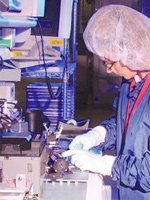 Electronics Assembler
Electronics Assemblers assemble, repair and test circuit boards and other electronic components, primarily in manufacturing facilities.
What do Electronics Assemblers do on the job?
Solder and manually assemble various electronics components to designated locations on a printed circuit board.
Fine hand assembly using microscopes.
Install, mount, fasten, align and adjust parts, components, wiring and harness to subassemblies and assemblies using hand and small power tools.
Operate automatic and semi-automatic machines to position, solder and clean prescribed components on printed circuit boards.
May replace defective components and repair and overhaul older devices.
For further details about this occupation, please see the High School to Apprenticeship Handbook, or find it on this website under "Resources."
ELECTRONICS ASSEMBLER DOWNLOADS