Instrumentation & Control Technician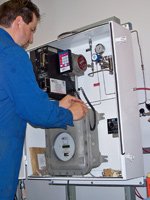 Instrumentation and Control Technicians maintain, diagnose, calibrate and repair control instruments in commercial and industrial settings.
What do Instrumentation and Control Technicians do?
Consult manufacturer's manual to determine test and maintenance procedures for instruments used for measuring and controlling flow, level, pressure, temperature and other variables in manufacturing and processing.
Use testing devices to inspect and test the operation of instruments and systems, diagnose system faults, calibrate components and instruments.
Repair and adjust system components or remove and replace defective parts.
Perform scheduled maintenance work, complete test and maintenance reports.
For further details about this occupation, please see the High School to Apprenticeship Handbook, or find it on this website under "Resources."
INSTRUMENTATION & CONTROL TECHNICIAN DOWNLOADS
saskatchewan youth apprenticeship (sya)
The Saskatchewan Youth Apprenticeship (SYA) program gives high school students the opportunity to learn more about skilled trades career pathways and gain a head start on their skilled trades career, should they register as an apprentice after graduation.